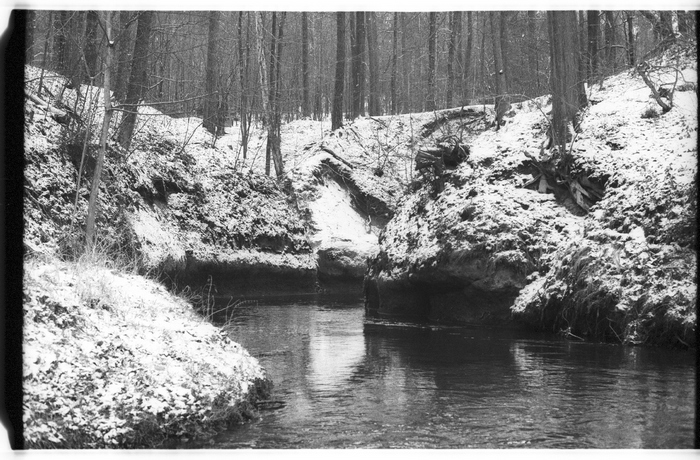 The exhibition as a whole creates, uncovers and, using simple means, comments on the complex situation characteristic of film art. It presents a very subjective, lyrical film developed with quite traditional technical means as well as some methods of the film avant-garde (the inclusion of chance and estimation in the process of film developing). At the same time, the installation includes only the most basic technological trappings enabling its projection and reception. The traditional cinema operation is then constituted by the projection of the film itself, taking place only once per day at a given time and with the assistance of the artist. The project therefore has de facto two foci: the event (the film projection itself) and the prerequisites for the holding of the event (the cinema installation). The subject of the artist, construed by an intersection of a specific person and the role of film producer, through which he expresses himself, is a substantial point of reference. Havlíček rediscovers the attractiveness of the landscape surrounding Česká Lípa, i.e. the place linked to his childhood and adolescence. This utterly intimate topic has been tested with the chosen technological aspects of film art and film as an institution: classical recording on a roll of film, film developing, editing and projection as physical operations have all been inscribed not only in the DNA of the classical film industry, but so far also in that of the post-photographic film. They are only various ways of reaching emotions arising in a specific situation in reaction to the moving image.
The one-week duration of the project is determined by not only the format of the film newsreel, summing up the news and screened for seven consecutive days without any change (before the performance itself); it can also be perceived (and perhaps primarily) as a well-defined time unit in which our lives take place and repeat themselves.
Marek Pokorný
---
Jiří Havlíček (*1977) studied from 1998–2004 at the Faculty of Fine Arts, Brno University of Technology; from 2006–2007 he was, together with Petr Strouhal, curator of the Eskort Gallery in Brno. Now he is a lecturer at the Faculty of Arts of the University of Ostrava, and a curator (for instance for the Polansky Gallery in Prague). His work has continuously touched on the issues of the medium of film, text, sound and subjective appropriation of time and space. With unusual sensitivity he tracks, evokes and mulls over the themes of memory, loss (increasing the significance of what has remained) and subjectivity (questioned, yet insistently present). In doing so, he uses animation, editing, fragmentation, shifting and reflection, repetition and appropriation. Havlíček has aptly characterised his work as being imprisoned in film space, in one's own memory and in oblivion.