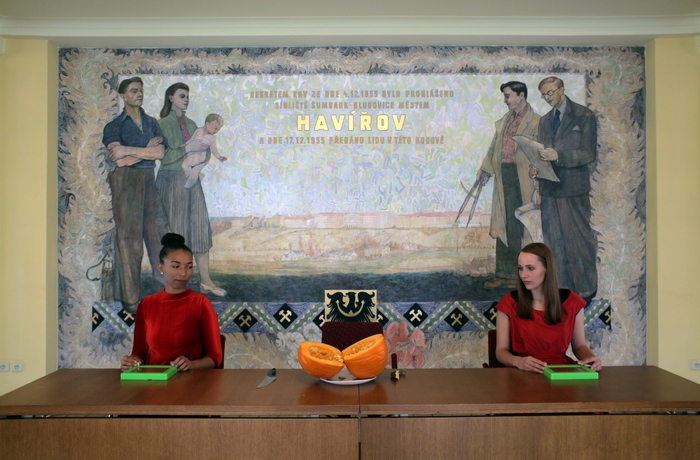 The present exhibition of this outstanding German artist in Ostrava is conceived exclusively for PLATO and it deals with the history and present of the Ostrava region, a melting pot at an unstable intersection of ethnicities and ideologies, which has turned in the modern times into a distinctive amalgam arousing amazement and nostalgia at the same time.
Several intense searching and filming trips to the Ostrava region, made by Maix Mayer over the past year, are here transformed into a subjectively dreamlike multi-projection combining elements of industrial archaeology, documentary film, and theatre. Mayer sets out to research and document Ostrava landmarks and legends, examining them from the position of both aesthetics and logics, in order to reconnect them in his own individual manner into an extensive pictorial poem accompanied by an introspective commentary (spoken by the protagonists of the legendary Czech film Kouř/The Smoke).
The exhibition is a loose follow-up of the project barosphere 1, presented last spring in Eigen+Art Gallery in Leipzig. It represents Mayer's original view of the Ostrava agglomeration in an abstractly formulated story of three protagonists, passing through commonplace, bizarre and exotic settings like apostles of the industrial utopia and its present-day outcome. Here, Mayer has constructed his own dream about Ostrava – full of phantasmagorical wonder, richness of images and intelligent empathy.
Pavel Vančát
---
Maix Mayer (*1960) is a conceptual artist from Leipzig; after studies in marine biology in Stralsund (1982–1987) he graduated in photography from the Hochschule für Grafik und Buchkunst (1992–2002) in Leipzig. He has obtained many awards and scholarships (e.g. last year Villa Massimo in Rome). At present he is a visiting professor at the Art Academy in Szczecin, Poland. His complex and often long-term projects focus on the archaeology of modernism and its myths, examining them in the form of photography, video and installation.
---
The exhibition has obtained financial support from the Czech-German Future Fund.