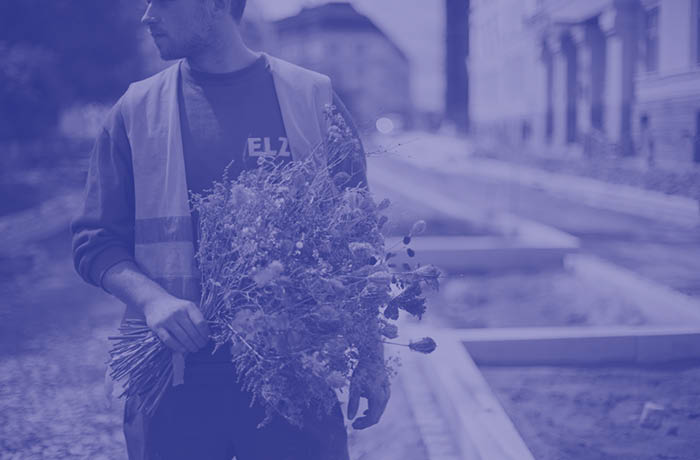 At the end of the season, the PLATO Office for Art will turn into a special shop with plants from Ostrava and its surroundings. At our request, the gallery will be converted for a week into a peculiar florist's by garden architect Lucie Králíková from the Brno Efemér project, in collaboration with photographer Michaela Karásek Čejková. We will offer custom-made bouquets, as well as an environment for talks about the fact that ordinary plants are not to be ashamed of, what grows around us and what flowers match one's personality.
Our custom-made bouquets from plants and flowers picked by the project creators in the city and in its surroundings will answer questions stemming from the talks. If you bring your own bouquet, it will become a point of departure for a dialogue. A bouquet as a gesture of exchange and sharing.
Let's erode the certainties of the global market with flowers! Let's give back to plants their dignity, let's turn flower binding into an art again. Let's find an alternative for our emotions and lives.
Marek Pokorný
---
Opening hours
21 – 27 September 2017
Open daily 2 p.m. – 6 p.m. (including weekend)
Project programme
27.09., 7 p.m., concert of the Polish group Mchy i porosty, dernisage
---
The Ephemeral Talks project is associated with the Efemér ecological florist's in Brno blending love for nature in its simplest form, love for traditions and joy over beautifully bound bouquets, including those of branches and plants of the urban wilderness. The shop was established by the Brno garden architect Lucie Králíková and the architect Klára Zahradníčková.
The reason I started Efemér is that I feel strongly about certain current procedures in the marketing of cut flowers. As customers we know the conventional flower assortment available all year round, but we are less aware of the fact that the flowers travel thousands of kilometres, and of what the real costs for their low prices and permanent availability are for the peoples and landscapes of Zimbabwe, Kenya and Ecuador. We don't realise that the global market has triggered the decline of almost all smallholder flower-growers and shops in our neighbourhoods. The natural ability to use local resources effectively thus disappears, often at the same time as a feeling of responsibility for one's environment. Cultivated flowers promote the degenerate aesthetics of "floristic art" that leads to a feeling of embarrassment over ordinary flowers from country gardens or those picked on a Saturday outing. For me, work with flowers is a creative process rather than estranged industrial production; I perceive a link between the appearance of every bouquet, its origin and natural manifestation, and I offer an alternative.
I know the places in which our plants grow. I grow them in my garden in the city, in accordance with the principles of ecological farming. Those I don't grow I buy from local growers or shops. It's natural for me to use plants appropriate to their seasons. I revive rituals and cultural traditions connected with plants. I explore deserted garden colonies and areas overgrown with weeds. I like using plants growing freely in the suburban wilderness and cultural landscape. I observe natural habitats of the individual plant species in the landscape. I consider bouquets artistic objects related to their place of origin and the people for whom they are intended.
Lucie Králíková
---
Born in Žatec, Lucie Králíková (1981) has been living in Moravia since she was seven. At the age of 30, she returned to her birthplace to find the prefab panel building where she had lived, and to learn diving in the local swimming pool. She studied Garden and Landscape Architecture at the Mendel University in Brno; she also worked there as a lecturer in the Visual Creation course. Having worked in a café for several years, she has launched the Efemér art project in Brno five years ago. She runs a seminar titled Genius loci at the Faculty of Economics and Administration of the Masaryk University, Brno. Considering plants as an artistic means, she goes beyond the limits of their perception. She is interested in the history of the landscape and in the people who influence it. Together with the photographer Michaela Karásková and the graphic designer Jakub Kovařík they make a book on the resurrection of traditions in the urban environment, in which Lucie Králíková follows the role of plants in Czech culture. She currently works also on the project Czechia, interlinking tradition, landscape and genius loci. The creative trio Králíková & Karásková & Plamitzerová design a universal garment for each individual city including Ostrava. The contemporary urban costume will be shown at the Desigblok, Prague in October.
Michaela Karásek Čejková (1989) was born in Ostrava, she lives and works in Prague. She studied photography at the Secondary Arts School in Ostrava, and graduated from photography at the FAMU (Film and TV School of the Academy of Performing Arts). During her studies she was on a study trip in Helsinki (Aalto University of Arts and Design), she acquired experience also in the Italian magazine Alla Carta (Milano). She is primarily involved in portrait and the classical collage technique. In her photographic work, she uses the "painterly approach" interconnecting mutually incompatible elements. She has collaborated with a number of Czech designers on a long-term basis, and participated in Designblok, the largest Central-European design festival. She currently works on the urban costumes project Czechia. She dreams of a camera being "a part of the eyes" that might take the surrounding people without their knowing, since this is when they are the most beautiful.