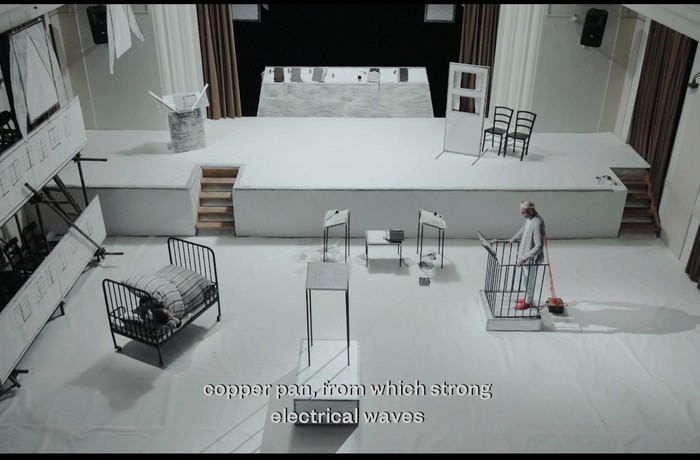 CZ, 2016, Czech with English subtitles, 63 min
The Judicial Murder of Jakob Mohr is a theatrical collage presenting to the audience the case of the psychiatric patient and artist Jakob Mohr. Mohr suffered from the delusion that his behaviour was controlled by his doctor by means of a mysterious machine. The scene of Mohr's drawing Judicial Murder, which depicts Mohr as defendant, the doctor, the influencing machine and the court, is used as the setting for assemblies or unusual conferences in which Mohr is presented as an artist, patient and criminal and in which not only Mohr's visions, but also scenes and figures by other Art Brut artists claim their right to existence.
Cast
Jan Lepšík (as Jakob Mohr)
Jiří Fadrhonc (as the Doctor)
Richard Němec (as the Judge)
Kryštof Bartoš (as the Prosecutor)
Marta Vítů (as Mohr's Mother)
Thomas Röske (as Thomas Röske, Director of the Prinzhorn Collection)
Marie Fröhlichová (as the Patent Office)
Anna Peřinová (as the Student)
Dominik Migač and Marie Švestková (as the Two-Headed Stenographer)
Hana Polanská Turečková (as Karl Brendel's Head with Legs)
with other actors, dancers, fictional characters, patients and staff of Bohnice Psychiatric Hospital
Created, Written and Directed by Eva Koťátková
Produced by Are | are-events.org, Zuzana Blochová
Film Directed by Tomáš Luňák
Director of Photography: Aleš Hart
Editor: Anna Johnson Ryndová
Sound Mixer: Adam Levý
Stage and Costume Design: Eva Koťátková, Tereza Černá, Jaro Dufek, Radka Josková, Jiří Merčák, Marie Vařeková
Music: Aid Kid
Performance Coordination: Marie Vařeková, Radka Vařeková
Film Production Manager: Martina Knoblochová
---
The film and performance were created and produced in collaboration with Are | are-events.org and supported by the Czech-German Fund for the Future, the City of Prague, the Ministry of Culture of the Czech Republic and its Culture Fund, and PLATO – platform (for contemporary art) Ostrava / City Gallery Ostrava and Trojhalí Karolina, association of legal entities.