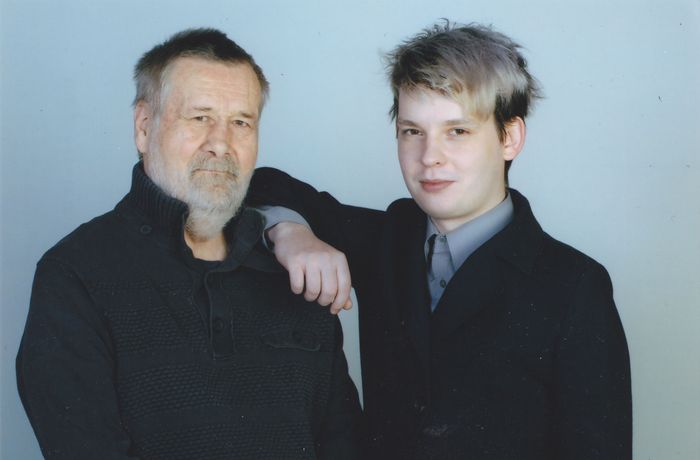 Here Stratil returned to the emotionally charged expression of the "patient". The dysfunctional psychopathic speech switches between prayer, sexual perversion and furious berating. However, it also contains the neuralgic points of our culture, it enters into forbidden areas of knowledge and ridicules the sacrosanct.
Peace and quiet reigned over the old continent
It was first presented as a four-channel audio installation in the summer of 2013 at the Drdová Gallery in Prague. As a bonus there was also a CD of Stratil's first (and also best of) album Všechno bude fajn (Everything's Going To Be Alright).
Presenting Stratil's recordings was an unusual choice, as the public would probably have been expecting drawings, pictures and photographs. However, the word has also been part of Stratil's creative expression throughout his whole artistic career. Several of his poetic notes have been preserved from the 1970s and 1980s, when he was part of the young generation from the semi-official art scene in Olomouc. Stratil put these in writing to make a spiritual horizon of his drawings from the time. Then in the mid-1980s the word was transferred directly to several of his legendary "large black drawings". At the start of the 1990s the repeated word "boredom" became a leitmotif for another of his famous collections of drawings. A more complex view of Stratil's literary work was provided by the publication of Text pacientův (The Patients' Text) in 1993, a supplement to the collection of photographic self-portraits Řeholní pacient (The Monastic Patient) (1991 – 1994).
A virtual paradigm is made up from:
1. the description of a patient
2. the description of a monastic patient
3. the description of a priest
ad 1/ I am not a priest, I feel that I am a patient
ad 2/ I am not a patient, I feel that I am a priest
ad 3/ This concept is like the dematerialization of extensive preparations for enormous certificates, warning of a complete fading away
"Spiritual Document" The Monastic Patient was an autobiographical, spiritual-existential record as well as a postmodern, ascetic-ecstatic theatrical study in front of the lens of a communal photographer. At the same time, this four-year "photoperformance" became the starting point for several of Stratil's subsequent time-lapse photography projects.
The audio recording Fuck is an insane, in places chaotic and unlistenable outpouring of anger and disgust. A spiritual code, which for Stratil is always conditioned by Catholic dogma, is revealed as part of the subconscious breaking through into reality. The wreckage of the imagination forms an unstable island of poetry, but the cesspool of speech continues to flow with images which we cannot allow to remain within us. We are listening to a madman whose mind is wide open and without ethical-social inhibitions. Relief is brought by the melodic chanting of the word "marijuana", but it does not diminish the listener's unease from what he has just heard. Stratil says out loud what many of us might say in the anonymity of internet discussions. But it is this which distinguishes Stratil from other performers – a personally authorized transgression, where we are unsure if we are facing a parable or a monstrosity.
Fuck was not the last time when the two artists worked together. Stratil's voice could later be heard on Panáčik's new album Postmodern. Two joint photographs were subsequently created for the exhibition at PLATO, to which, after a long interval, Stratil added a series of dual portraits with people from the surrounding area.
The exhibition at PLATO can also be seen as a warm-up to the cross-sectional exhibition Nedělám nic a jiné práce (I'm not doing anything and other work) at the Moravian Gallery in Brno in recognition of Václav Stratil winning the 2014 Michal Ranný Award.
My right to the Last Judgement is my only consolation in this tragic valley of tears,
in this bloody pool of blood
Jiří Ptáček